Mission
PCM INNOVATION
offers fully integrated solutions in engineering and tooling.
OUR CUSTOMERS
are world leaders in the aviation, space, and transportation sectors.
OUR PRODUCTS 
are assembly lines, fixtures, molds for advanced composites and short series parts.
OUR TEAM MEMBERS 

aim for excellence. They are innovative, agile, creative and passionate about our profession.
Vision
Build an international group 
acting as an industrialization integrator for aerospace and transportation.

40 Years of history and experience
Privately owned:  Jean-François Hamel, CEO and majority shareholder alongside 8 key management partners
Project management supported by performance indicators, PLM, and ERP systems
Low turn-over and very good health and safety record
Constant investment in R&D and training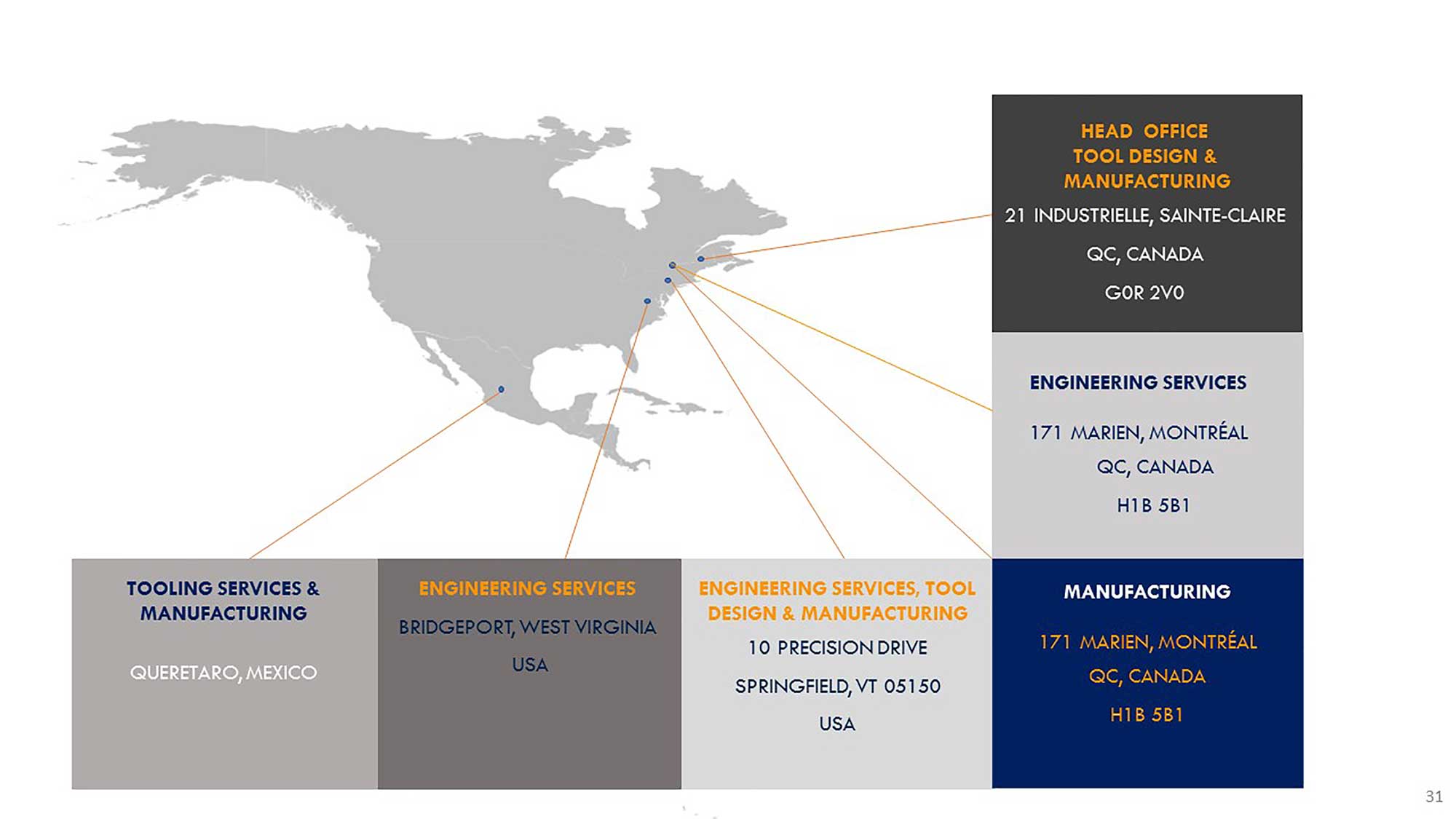 People on our diverse team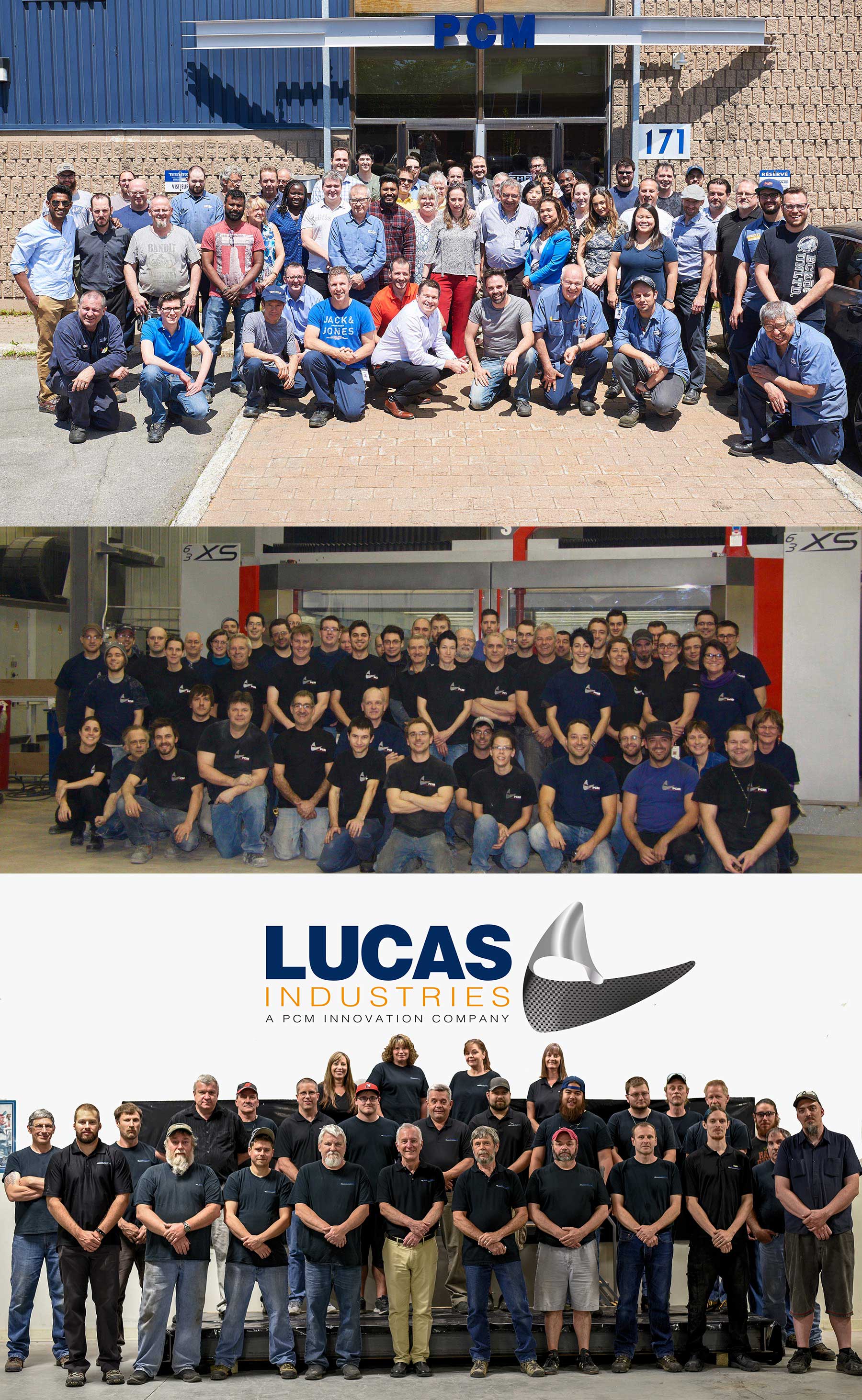 Engineers and tool designers
+ CNC programmers and operators
+ Composite material specialists
+ Metrology specialists
+ Certified welders and tool makers
+ Metal mold polishers
+ Pattern & molds experts and finishers
2016
PCM INNOVATION acquires TECHFAB Inc. which will now operates under the name of PCM TECHFAB Inc., as a division of the group. TECHFAB, with more than 25 years of manufacturing experience and originally known as Techfab Gauthier Inc., is a company specialized in assembly workstations and tooling for aerospace, as well as a sub-contractor in CNC 5-axis machining, turning and gun-drilling. Merging the capabilities of both companies will enable to better serve the Quebec aerospace cluster with a facility in Montreal-Est, which will count 50 highly specialized employees. The PCM INNOVATION group now counts about 200 employees.
2015
PCM INNOVATION acquires and merges Halberg Design Inc. with its PCM Innovation Montréal Inc. division. The transaction also includes Halberg Design Corp., a U.S. company based in West Virginia.  Integrating the proven capabilities of both companies ensures that PCM is better suited to serve Quebec's aerospace industry with a Montreal office that includes more than 50 engineers and designers working in teams specialized in aerostructure, aeroengines, satellite systems and advanced composites parts.
2013
PCM experiences an important growth, now that the company is able to propose assembly stations and complex Tools.
Implementation of a third extra-large 5 axis machining center of high precision.
2012
PCM receives the High Honour Avenir Award by Desjardins. In July, PCM acquires the engineering activity of The Montreal firm BRT Solutions, to enhance his panel of services for customers from the aerospace and transportation markets.
2011
New partnerships are signed with CORIMA Technologies (France) and CREAFORM 3D (Canada).
2010
Laser tracker technology is bought and a new large size oven is installed.
2008
Installation of the latest technology in 5 axis CNC milling. High precision and high speed, this center is able to work in titanium as well as carbon composites.
2007
Jean-Francois Hamel comes in as the new majority shareholder with two new partners. Catia V5 and Laser scanner technologies are implemented.
2005-06
Installation of the largest 5 axis CNC in Canada. A new composites room is built, high capacity overhead cranes are added and a CMM Romer arm is bought. PCM wins the Galea Award of SME of the Year.
2004
PCM wins the 2004 Fidéides Company of the Year Award
2003
PCM doubles the production building surface and buys a number of CNC centers.
2001
Construction of the main plant and head office in Ste-Claire, Quebec (Canada), 30 minutes south from Quebec City.
2000
PCM is created by a team of 8 shareholders that have worked together for the past 20 years.